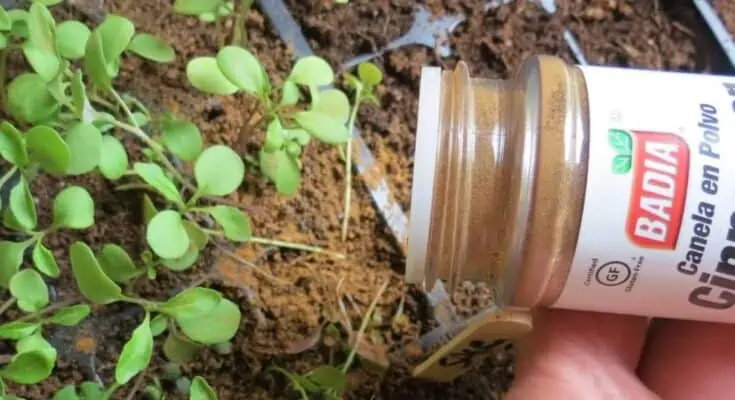 From improving garden soil using recycled kitchen waste or creating a mini greenhouse using soda bottles to propagating rose cuttings with potatoes or making beautiful log garden planter, these garden tips and tricks are easy and affordable.
With a little effort and nearly no cost, you can transform your garden into perfection!
Now let's start with the first one…
Fun Gardening Hacks To Jumpstart Your Garden
Gardening Hack #1
Start Seedlings from Eggshells
Don't throw away those used eggshells! Save them up and use them to start your seedlings! They keep those little plastic containers out of the landfill, plus they self compost and add a calcium boost to the soil. Get more details at Squawk Fox.
Special Report: Experts Call It "The Holy Grail Of Self Sufficiency"
Gardening Hack #2
Use a Wine Bottle to Slowly Water your Plants over Time
Fill an empty wine bottle with water and put it upside down in your pots or garden. The water will slowly trickle out keeping everything moist on hot dry days or if you go away for the weekend. Check out The Greenists for more details.
Gardening Hack #3
Put Coffee Filters at the Bottom of Containers to help Keep all the Water from Draining
There is nothing more frustrating than watering a pot, only to have all of the water run right through the holes at the bottom. You can slow down the water drainage by placing a coffee filter at the bottom. Water can still get out, but it will give the soil more time to absorb it. Check out Pop Sugar for more info.
Related post: 12 Survival Edible Plants And 13 (Beautiful) Poisonous Plants To Avoid
Gardening Hack #4
Sprinkle Baking Soda on the Soil to get Sweeter Tomatoes
Make your homegrown tomatoes even sweeter this year by sprinkling baking soda on the soil around the plants. The Gardening Cook gives directions here.
Gardening Hack #5
Make your Own Self Cleaning Sharpening Tool Holder
Need a home for your gardening tools? Try this self cleaning and sharpening tool holder from One Good Thing by Jillee.
Gardening Hack #6
Make Your Own Seed Tape
Try using toilet paper instead of buying overpriced seed tape. It works just as well and is a fraction of the cost. Seed tape is quick, easy and now totally cheap with the method you can find here.
Gardening Hack #7
Protect Your Plants With Milk Jugs
Are you eager to get those plants in the ground before the frost risks are over? No problem! Protect new and fragile plants from frost and bugs with this clever trick from Family Food Secure.
Related post: 13 (Surprising) Uses For Plastic Bottles
Gardening Hack #8
Plant With Pests in Mind
Plant some flowers in your garden to help deter certain pests. Head over to Organic Authority for tips on which plants will help keep your garden pest-free this season.
Gardening Hack #9
Make your Own Fertilizer with Kitchen Scraps
Let's face it, composting isn't for everyone. But, guess what? You can still make your own compost in small quantities from kitchen scraps. Get the step-by-step directions here.
Let's face it, composting isn't for everyone. But, guess what? You can still make your own compost in small quantities from kitchen scraps. Get the step-by-step directions here.
Related post: How to Plant a Perennial Food Garden In 3 Simple Steps
Gardening Hack #10
Use Citrus Peels to Start your Seedlings
Did you know you can also use your leftover lemons after they've been squeezed to start your seedlings? Besides being super cute, they self compost and add some extra nutrients to the soil when they are planted. Learn how to use those peels as seed starters here.
Gardening Hack #11
Use Plastic Forks to Keep Pets and Animals from Destroying your Garden
I need to try this! Plant plastic forks in the garden to deter rabbits, squirrels and raccoons from raiding your crop. Might look odd, but if it works, it's totally worth it! Get the details here.
Gardening Hack #12
The Miracle of Epsom Salt
Adding Epsom Salt to your garden increases the nutrient absorption of plants and improves seed germination. Natural Living Ideas has even more details on what Epsom Salts can do for your garden.
Gardening Hack #13
Check Your Grocery Bag for Crops
Fresh basil, celery and onions can all be started from cuttings you'd normally throw away. Set them in some water and they'll start to grow all over again! Find out which vegetables you can re-grow over at The Organic Lemon.
Gardening Hack #14
Grow Heart or Star Shaped Fruit
Okay, this one is just for fun – but you can actually buy molds that will let you grow star or heart shaped cucumber, tomatoes or other small to medium sized vegetables! You can get the molds at Amazon or from the British website Suttons Seeds.
Gardening Hack #15
Keep Those Instructions Handy
You know those plant tags you throw into the shed because you know you should save them, but you aren't exactly sure what to do with them? Put them on a key ring to keep them organized! Get more clever ideas over here.
Gardening Hack #16
Plant a Water Bottle with Holes in it to Slowly Water the Plants
This is brilliant! If your plants dry up quickly in the harsh sun, poke a bunch of holes in a water bottle and plant it next to your plant. Then you can easily fill the water bottle which will slowly release the water into the soil. This is an easy way to get water all the way down to the roots! Visit The Gardening Nook for more instructions.
Gardening Hack #17
Put Those Melons in a Sling
The bigger and heavier melons get as they grow, the more likely they are to break from the vine before they are ripe. Give them a bit of support by making a sling out of an old t-shirt to reduce the strain on the vine. Make your own melon sling with directions from The Vegetable Gardner.
Gardening Hack #18
Cinnamon powder on seedlings to prevent diseases.
Cinnamon has some anti-fungal qualities, and it smells great as a bonus. Use it to prevent and stop diseases on seedlings. Find out more on it.
Gardening Hack #19
Use coffee grounds to keep pests away
Use used coffee grounds to keep pests like ants, snails, and slugs away. There are many other coffee grounds uses you can check in the post.
Gardening Hack #20
Keep Plants Watered for Days when going on vacation
If you're going on a vacation for a few days and don't have a way to keep your indoor plants watered, keep them alive with one of the clever gardening hacks.
Simply roll up some paper towels as tight as possible without them breaking, dunk the ends in a glass of water, and lay the remaining across the soil so that each plant is at least a few inches away. Learn more on it.
Gardening Hack #21
Use herbs to deter mosquitoes!
Make this mosquito control pot by grouping these plants together to prevent mosquitos and flies.
Gardening Hack #22
Kill Weeds Using Vinegar
If you want to get rid of those pesky plants in your garden that pop up again & again, use vinegar.
Gardening Hack #23
Hang pallet on wall to store garden tools
Shipping pallets can be found for free at many hardware stores, furniture stores or even construction sites. Using a recycled pallet, recycled bow rake heads and less than ten dollars worth of hardware it'll be ready, this garden tool rack has a rustic appeal and will help to wrangle the many garden tools one accumulates.
Check out the DIY tutorial on HGTV.
Gardening Hack #24
Use hydrogen peroxide to help plants
Hydrogen peroxide can be so useful for your plants, it can save your plants from root rot and many fungal diseases. It also helps to sprout seeds for new plantings. Use a 3% hydrogen peroxide solution once a day and spritz the seed every time you re-moisten. You can also use a mixture of 1 part hydrogen peroxide to 32 parts water to improve your plants' root system.
Read many more hydrogen peroxide uses on ONE GOOD THING.
Gardening Hack #25
Use honey to propagate cuttings
Honey contains enzymes that promote root growth, and you can use it as a 'Rooting Hormone'. Honey help plant cuttings in setting roots and they propagate easily, it also saves them from fungal problems.
Read how you can use honey to propagate cuttings on Gardening know-how.
Gardening Hack #26
DIY self-sharpening garden tool holder
Make a tool holder from a terracotta pot and add abrasive sand, and mineral oil in that. It will not only hold your garden tools as you thrust them in but the sand and mineral oil mixed in it also clean and sharpen them at the same time.
Read more of this ingenious idea on One Good Thing.
Gardening Hack #27
Use diapers to improve the moisture-retaining ability
Quirky idea but useful. Lay diapers with the absorbent sides up and they will retain moisture for a long time. This gardening hack is useful for hanging baskets, shallow pots, and especially if you live in a really warm climate.
If you want to know more about this idea, click here.
Gardening Hack #28
Use cooking water to fertilize plants
When you boil or steam some vegetables on the stove top, don't pour the water down the drain. Once the water has cooled, pour this vegetable water in your plants to fertilize them instead of wasting it. You can also do the same with your boiled egg water.
Gardening Hack #29
Pinching, deadheading, and pruning
Pinch the tips of young plants for bushier growth. Deadhead spent flowers from your plants to promote more blooms and remove top shoots and emerging flowers of your herbs to help them have a healthy growth and prevent bolting. Also, most of the new gardeners avoid pruning their plants but it is important too and helps in rejuvenating the growth of plants.
Gardening Hack #30
Smother the weeds
If weeds are surfacing in your garden do this: Before you put a layer of mulch on your planting beds, cover the garden bed with newspapers and then drop a layer of mulch to smother the weeds.
Read more about this ingenious idea on A garden for the house.
Gardening Hack #31
Check soil pH at home
Check the soil pH at your home. It's true you are not going to find out the exact value from this test, but it will tell you whether your soil is acidic, neutral or alkaline.
See our DIY post for more information.
Gardening Hack #32
A ladder plant stand to create more space
Get a ladder plant stand like this to put your plants on it and to create more space. It can be a good addition in a limited space container garden.
Start Eating Wild Plants Now
When you know what you're doing, wild plans make a good food source when times are tough. But, don't wait until the SHTF to start adding wild plants to your diet.
Get yourself a good reference book for plants in your region. Make it a point to study plants that you can eat and ones you need to avoid. You don't want to feed your family a deadly meal because you made a mistake in your plant identification.
Instead, take the time now to learn about these plants. Learn to identify, prepare, and store them for longer term use. Eat them occasionally to introduce your taste buds to the unfamiliar tastes. This preparation will go a long way in helping you survive a disaster situation.
Ready To Become Self-Reliant With Your Endless Food Supply?
This article was inspired from The Backyard Miracle Farm System. This system is helping thousands of families to permanently ditch the food companies.
How good will it feel to never have to worry every time you go to the grocery store?
Pretty great, right!
In this short video you'll learn:
How this simple method that can produce all the naturally fresh fruits, vegetables and fish so you can have an unlimited supply of nutritious food with the press of a button. And you'll discover just how incredibly easy it is to put it together for less than $270 in total costs and in under three hours of your time.
Not only will you have an automated supply of the freshest, high quality food you've ever tasted for pennies on the dollar…yet this will become more valuable than "Gold" in the middle of any disaster situation…
What's more… because the "Backyard Miracle Farm" is very light and portable, it makes for one of the best "emergency" food sources you could ever hope for.
Enjoy the sense of security that comes with having all the food and clean water on-demand…even in an emergency…And forget about the worry of storage space.
And best of all, it generates FREE food day in and day out – so you can slash your grocery bills by 30%…60%…even 90% and save thousands each year.
That's just a glimpse of what the "Backyard Miracle Farm System" will do for you…
If you are serious about protecting your family even during the darkest times, then the next best step is to learn all you can from this video.
"Always Be Ready" Max