The following 37 links and 11 companies have been collected for you to begin your search for free emergency preparedness gear.
Some links take you straight to signing up for free gear. Others are promotions and special discounts. There is real value in adding a step of looking for promotional codes and links before purchasing any survival gear.
How Free Survival Gear is Possible
Some websites and organizations set up ways for people to have access to commemorative or practical gear in line with their values.
Other links take you to websites where product developers offer free products for feedback and reviews. In a social media age, any positive content related to a survival product or brand can be edited for promotional purposes.
Various survival gear manufacturers negotiate deals with online marketing agencies. The agencies are generally specialists in Search Engine Marketing (SEM). As a result, the website owners get access to surplus survival gear or manufactured inventory meant for promotions and brand development.
With a bit of research and reading some fine print, you can find what these agencies have published. For your engagement and clicks, all the data creates a persuasive proposal for a survival gear manufacturing company.
In most cases, expect to pay for shipping, but remember, the product was free and you're coming out on top.
---
Free Survival Gear
Knives
Comfortable to hold, the Evatac Combat Dagger is a high-quality double-edge knife with a matte black finish. Comes with a polyester sheath with a belt loop and clip lock.
Combined with a belt cutter and glass breaker, the Evatac Rescue Knife is a sharp, spring-assisted folding knife with a drop point blade.
Perfect as an everyday carry, the USMC Neck Knife is a lightweight 4″ blade knife. Used as an EDC neck chain knife.
This discreet defense tool can be used as an everyday carry (EDC). Hidden inside a money clip, the money clip knife can be used in self-defense.
With that dangerous-looking full tang design, the Karambit Knife optimizes survival, hunting, camping, and fishing. Lightweight yet extremely durable, this black, curved knife comes with a protective sheath.
Folded into a carabiner, you can easily hang this knife and add it to your tool rack. The stainless steel blade is durable and lightweight, a great addition to your survival kit.
---
Fire Starters
Even wet, the Everstryke Match can start a fire under extreme difficulty.
Waterproof firestarters are small and easy to pack. With this Lifestrike Waterproof Lighter, you can start a fire during floods.
Books, Guides, & DVDs
Richard Marshall, a survival expert of over 20 years, outlines how to avoid surveillance.
Former CIA instructor Jason Hanson condenses automatic rifle home defense.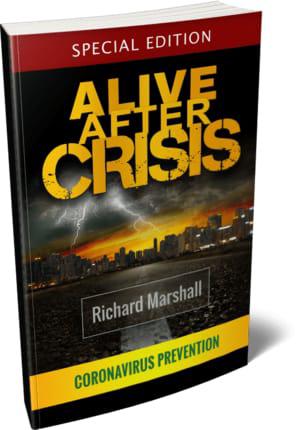 How to prepare for disaster and what to do after it.
Learn how to use a spy's Stiletto knife.
How to shelter your loved ones from disaster.
Blindfolded and dropped off in the harshest wilderness with only your knife, this book will teach you the skills to survive under the elements.
What to do in a wide range of cases in the first 72 hours of a disaster event examples:
What to do when the neighbor has a bomb and is willing to use it against you to get your food stores
How to guarantee you escape a madman prowling a theater with an AR-15
---
Bags
Prioritizing a high level of mobility, the Evatac Hybrid Duffel Bag is useful for everything. Designed to be rugged and versatile, this bag is constructed from Oxford Cloth. Every seam is lined with lightweight waterproofing to keep your goods dry.
A great tactical bag to carry around all your firearms, ammo, and other gear. The tactical bag can work for daily use with a computer or for camping and bushcraft purposes.
---
Face & Eye Protection
100% from soft cotton material, this mask is highly breathable. The replaceable filter blocks out tiny particles that have a diameter as small as 2.5 micrometers (pm 2.5).
Camouflaged with the American flag, this face shield is made from durable, lightweight, and breathable material. Perfect for hunting, bike riding, fishing, and protecting yourself from breathing harmful contaminants.
Dark camouflage designs are great for activities in the dark. Breathable and lightweight, you can wear this to protect and cover your face.
A fully black face shield makes for an intimidating sight.
---
Light
Powerful and compact, you can pack this in any bag.
A very bright LED bulb at 1,000 lumens that can last for 100,000 hours. Can double as a lantern.
---
Gun Accessories
Discreet firearm concealer. Made from breathable, high-stretch nylon, this ankle holster is compatible with sub-compact, mid-size, and full-size pistols.
Protects your firearms from scratches and damage while protecting your work surface oil, water, and solvents.
Great for concealing or storing your firearms. Mount guns under a desk, in a car, behind a door, in a gun safe, or pretty much anywhere.
---
Concealed Self-Defense
Constructed from lightweight, military-grade aluminum with a tungsten steel defense tip. Inside the pen, is a hidden compartment. Bright LED flashlight built in.
A variant of brass knuckles, this weapon is designed to improve punching power and maximum damage.
An everyday carry for most law enforcement agents, the tactical pen is a perfect example of all-in-one gear.
Miscellaneous
Intel is seeing. Snag this telescope before they run out.
Contains 75% alcohol and kills 99% of germs with a fast-drying gel and no sticky residue.
Free iPhone lightning USB cable.
One of the greatest handheld 15-in-1 inventions ever.
Related read: Over 100,000 Pages of Free Survival eBooks & PDFs (and video)
---
A Final Word
In 2023, companies and brands will go to great extremes to generate sales. When volume is their main focus, deals & discounts of every "make and model" are out there just waiting for you to find. Be patient. Read the information. Sign up and check off that link. Through methodically working on your free gear project, you'll end up with some amazing survival gear to prepare for whatever comes your way.
"Always Be Ready" Max