The smell of freshly baked bread is unique. We love bread, especially homemade bread. The following recipe is easy to make and simply delicious.
With only a few ingredients and requiring no kneading, this rise-by-itself bread can be made every few days.
Memories of Bread
On cold days snowboarding in the mountains of Oregon, a hot piece of bread with melting butter was the perfect treat to keep going. It was easy to bake early in the morning while preparing my gear. The smell of my breakfast and sandwich bread for lunch was the best combination with the excitement of snowboarding on one of the most beautiful mountains in the Northwest.
One 25-pound bag of flour will last a family almost 30 days – if they eat one loaf of bread a day.
Over the past 20 years, homemade bread is a common item on our table. It's cheaper, fresher, and better than store-bought bread, and I can measure the level of preservatives: none.
The Easiest Homemade Bread Recipe
This simple homemade bread recipe is from "Artisan Bread in 5 Minutes a Day" by Jeff Hertzberg and Zoe Francois.
5 minutes a day preparing your dough is all it takes. The main reason this homemade bread is so easy to make is because of time and humidity. All you have to do is add yeast, mix flour with water, and presto, your dough is done.
So, let's bake our way to a warm slice of homemade bread with a pad of melting butter.
The exact recipe is below and the following are the highlights.
Step 1: Mix
The first step is to mix the ingredients thoroughly. It will be wet. It will be sticky. And, this is good!
If you are using bread flour, you will need to add a little extra water.
If it is winter time you will need to add extra water.
The dough needs humidity for the chewy parts of the bread to form.
Step 2: Let It Rise (One of Two Times)
Once it is mixed, get ready to let your dough rest in the bowl. Cover the bowl with a tea towel or plastic wrap and set it aside in a warm spot to rise for at least an hour. The longer it rises, the richer the flavor.
*In the colder temperatures of winter, it might take longer to rise.
Once it has doubled in size, put your homemade bread dough in the fridge to rest.
Fridge time is a minimum of 6 hours and up to 1 week. Again, the longer, the better your bread may be.
Set the oven thermometer to 350ºF for one minute, then turn the oven off again.
*Do not allow the oven to get up to 300ºF — this will be too hot.
The goal is to just create a slightly warm environment for the bread dough for its second rising.
Secret #1 — Low Yeast Supply
If you are running low on yeast, you can use less than 1½ tablespoons.
It will just take longer for the initial rise of gases that create "bubbles" of air pockets inside of the bread.
Secret #2 — Mother Bread
Sourdough uses old yeast. You can copy the method by reserving a half cup of dough (about a small ball in the palm of your hand) and adding it to the next batch of bread.
This works great if you are making this bread on a regular basis. We make two loaves a week from this simple homemade bread recipe and always have dough in the fridge.
Break up the chunk and integrate it evenly throughout your mixture. If done correctly, you won't have to add any additional yeast for six months.
Step 3: Rise Again in the Warmed Oven (Two of Two Times)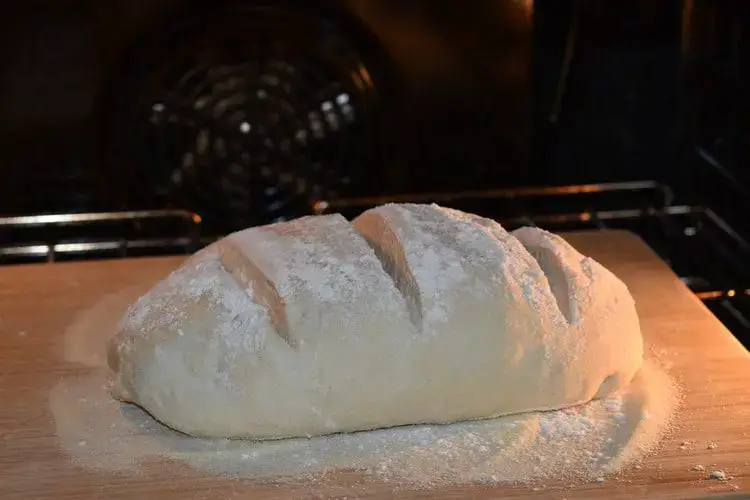 Now you're ready to let your dough rise again.
Place your shaped loaf in a warm spot inside of the preheated oven for the second rise. Let it rise for 20 more minutes.
Step 4: Bake
20 minutes after your dough has been rising in the oven, turn on the oven, setting it to 425 degrees Fahrenheit.
This recipe is best with a baking stone, however, you can work without one. We've had great success with a large cast iron pan. Worst case scenario, a cookie sheet or aluminum foil will do.
It will take longer if you have made large loaves. If you have split up your dough into smaller portions, you can make dinner bread rolls. In all shapes, bake until golden brown. Expect to bake for about 15 minutes at 425 degrees Fahrenheit.
Step 5: Reduce the Heat
Reduce the heat to 375º and bake for 15 to 17 minutes longer. Remove from the oven and turn the loaves onto cooling racks. If you've greased the baking tray well, the loaves should fall right out onto the cooling racks.
*If the loaves look pale and soft, place the loaves back into the oven without the tray and let them bake for about 5 minutes longer.
Step 6: Cool Your Bread
Remove from oven and let cool for 10 minutes before cutting to enjoy.
When the bread is cooked, let it cool completely. Slice your bread and get ready to enjoy your efforts.
Warm bread with melting butter, sweet jam, or even roasted garlic and olive oil makes for a perfect treat or addition to any meal.
Simple Homemade Bread
The easiest bread you'll ever make.
Ingredients
6 1/2

cup

all-purpose or bread flour

3

cups

warm water

plus 3 tbsp if using bread flour

1

cup

hot water for use during cooking

1 1/2

tbsp

yeast

1 1/2

tbsp

salt

Semolina flour

for dusting the resting and baking surfaces
Instructions
Mix water, flour, yeast, and salt until fully incorporated (it will be wet and sticky).

Place the dough in a warm spot until it doubles in size.

Refrigerate the dough a minimum of 4 hours and up to 1 week (I refrigerate for 12 hours).

Cut off half the dough and shape and cloak into a ball (see video above).

Place the dough ball on a surface dusted with cornmeal or semolina flour.

Let the dough rise for 40 minutes in a warm spot.

20 minutes into the rise, set your oven to 450°F.

Warm the pizza stone or cast iron pan in the oven along with the broiler pan.

When the rise is done, make 3-4 slashes across the top of the dough.

Transfer to the pizza stone/cast iron pan.

Pour 1 cup of hot water into the broiler pan to create the steam bath.

Let cook for 40-45 minutes until golden brown.

Remove from the oven and allow to completely cool.

Slice, slather, enjoy. Note: It's ok to slice it while warm.

If you're making rolls, divide your dough into 6 equal pieces.

Shape each portion into a small roll.

Continue with steps 6-12, however cook for only 20-25 minutes
In Closing
Did we mention we love bread?
When we first travel to our off-grid cabin of a homestead, a trip isn't complete until the first loaf of bread is made from our 100 lbs of flour storage.
We tend to arrive on Friday nights and the first thing to do is mix up a batch of dough. The next morning, the family wakes up to the smell of fresh bread. We enjoy it in the fresh air of nature, taking in the views, quietly munching on our breakfast.
Bread is the cornerstone of a good meal for a prepared family. It can expand meal options and lift moods. Once you're done with your first simple homemade bread recipe, you'll have a better idea of what you can add to your next batches.
This is a skill that is worthy of your toolkit and welcome addition to all of those crock pot meals you've been enjoying.
With 25 pounds of flour, a few packets of yeast, and other ingredients, you can have your own bakery production of fresh, crunchy, chewy bread from your stores.
"Always Be Ready" Max