Wintertime is a time you can grow plants too! If you choose your plants wisely, then even throughout harsh winters, your survival garden can produce food for your survival needs. Disasters can strike at any time of the year, and these events do not care if it's winter or not.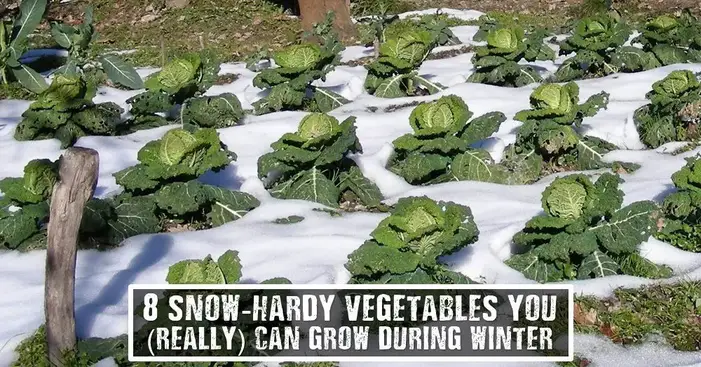 To plant a nutritious, green, leafy winter garden full of essential superfoods, you just have to account for a few factors.
What should I plant?
Where and when should I plant it?
and
How can I keep it growing until it's at least bitesize (when it's actually edible)?
Some plants even thrive in the frost and cold of winter. Select your plants based on their resistance to colder temperatures and you ensure your food supply during those freakin' cold months.
As always, your local environment will always require special modifications known best only by you and your experience. Be prepared as possible for some of the natural challenges you will face by learning how to garden through winter.
In the southern states, winter has been known to produce some of America's greatest vegetables on the dinner table.
In the northern areas of the United States of America, you can grow the same crops if you use a winter-protection device or Walipini greenhouse to broaden your garden's productive seasons.
---
8 Snow-Hardy Vegetables You (Really) Can Grow During Winter
If you live in a cold climate, winter vegetables need to be planted by mid-August so a root system can be developed before everything gets cold and frozen, but if you live in a warmer region, you can plant later.
Hoop houses or cold frames help protect the crops from the deep freezes. Guard and insulate your crops with mulch, frames, hoops, tunnels, or even loose straw or leaves.
Snow can even insulate crops from extreme temperatures. Frost and deep freezing, on the other hand, will do more damage.
Remember: If the soil freezes and becomes solid, plant cells will burst and the crops will die.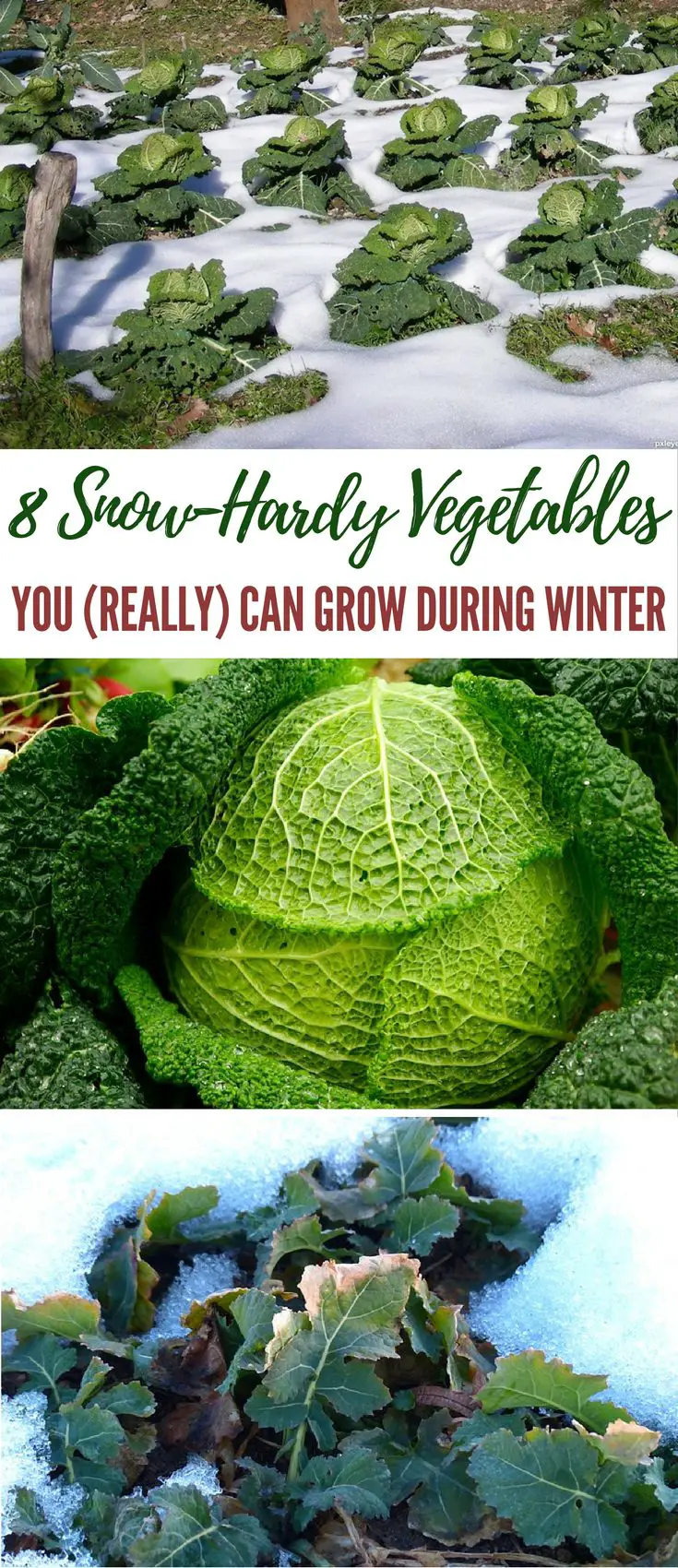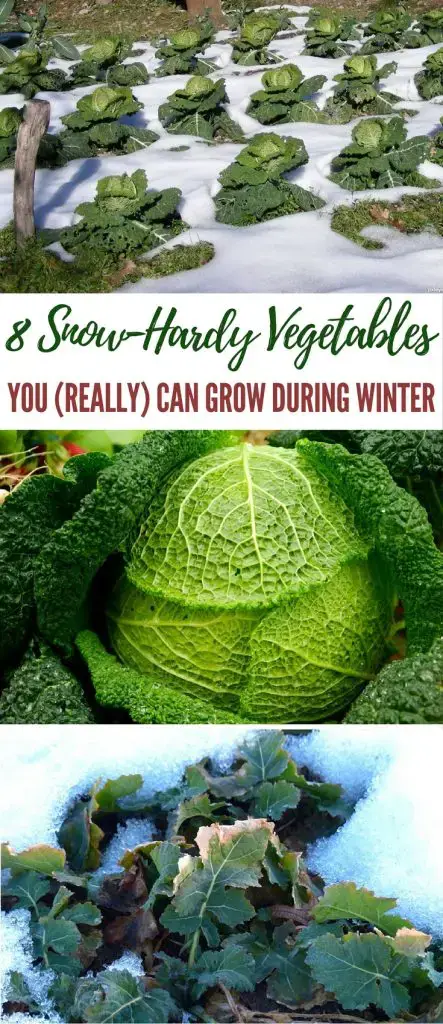 1. Spinach. This plant's leaves may die during the winter, but the plant, itself, can survive and grow new leaves in spring. Spinach grows slowly throughout the winter. Although it can make it through the cold temperatures, spinach will look pretty beat up, so keep it covered by mulch or cold frames. A good variety to try is Savoy or any kind with wrinkled leaves.
2. Leeks. Here is a hardy vegetable that isn't bothered by winter's short days. Leeks can grow well during the cold months. Bandit and Bleu de Solaise varieties are favorable for winter leeks, as well as "blue-green" kinds that can survive down to 0 degrees Fahrenheit or -18 Celsius.
3. Kale and collards. Both of these vegetables are rich in flavor. Collards are actually more freeze-tolerate than kale. Blue Max is a favored variety, has high yields, and can survive in winter temperatures down to 0 degrees Fahrenheit or -18 degrees Celsius. Other hardy types are Red and White Russian Kale, which do best when covered in the winter.
4. Parsnips. Sugars accumulate in parsnips when there is a frost, and snow can actually make parsnips sweeter. They keep well in the winter ground. They take 130 days to grow. Parsnips should still be covered in freezing temperatures to ensure success, and the lowest temperatures parsnips do well in are 0 degrees Fahrenheit or -18 degrees Celsius.
5. Lettuce. Young lettuce plants tend to tolerate cold temperatures better than mature plants. Keep lettuce plants protected, either by cold frames, hoops or tunnels. Lettuce can survive in temperatures down to 10 degrees Fahrenheit or -12 degrees Celsius.
If you cover the plants with multiple layers, lettuce can survive down to 0 degrees Fahrenheit or -18 degrees Celsius.
6. Cabbage. This vegetable has a frost-improved flavor, but can still be damaged by deep freezes. There are varieties that can stand winter unprotected. Crinkled leaf varieties do better than flat leaves, just like spinach. January King and Marabel are successful cabbage varieties. Cabbage needs to be planted in the late summer in order to feed you during the winter.
7. Turnips. Winter weather causes turnips to gain sugar and decrease in their spicy flavor. Turnips need some sort of protection from extreme temperatures, so cold frames or something similar is suggested.

Turnips can survive in temperatures down to 10 degrees Fahrenheit or -2 Celsius. You can also use heavy mulch, and make sure roots are covered. If you are looking for a good winter hardy variety, try the Hakurei kind.
8. Chard. Chard is a very tolerant plant. It doesn't need protection until temperatures go down to 15 degrees Fahrenheit or -10 Celsius. Green or white varieties are best, including the hardy Verde de Taglio. When deep winter comes with extreme temperatures, it's still best to cover the plant to protect it. Harvest the leaves and cover the rest with mulch. Chard will live through the winter and regrow in the spring.

offthegridnews.com
Other vegetables you can research for winter crops are the following: Surrey, arugula, rhubarb, beets, rutabaga, Brussels sprouts, and scallions. It is known that scallions, onions, and leeks can survive under the snow if the mulch has been used to create a layer of protection.

offthegridnews.com
---
Conclusion
Winter produce is some of the most nutritious food you can consume on a regular basis. They're rich in antioxidants and a myriad of health benefits inside a survival scenario or in daily life. Soften them up in your soups and meal prep and you've got a way to feed and strengthen your family, grown from your very own dirt.
Related read: How To Winterize Your Home
"Always Be Ready" Max