Amazing. Now you've learned how to make simple peasant bread. You've tasted what fresh bread hot from the oven does to butter. And, most importantly, how it tastes. 😄
Let's go through a few ways to improve on your original recipe by adding a few new ingredients.
No-Knead Dinner Rolls
Now that you've learned how to bake two loaves, let's move on to rolls.
To use the peasant bread dough to make rolls, simply divide the dough into six portions and place the small rolls in a buttered muffin tin.
At this stage, consider integrating seeds, nuts, buttermilk, brioche, or other ingredients into your pull-apart rolls.
No-Knead Sandwich Bread
To make sandwich bread, multiply the recipe below by 1.5 and bake the bread in two buttered 8.5×4.5-inch loaf pans.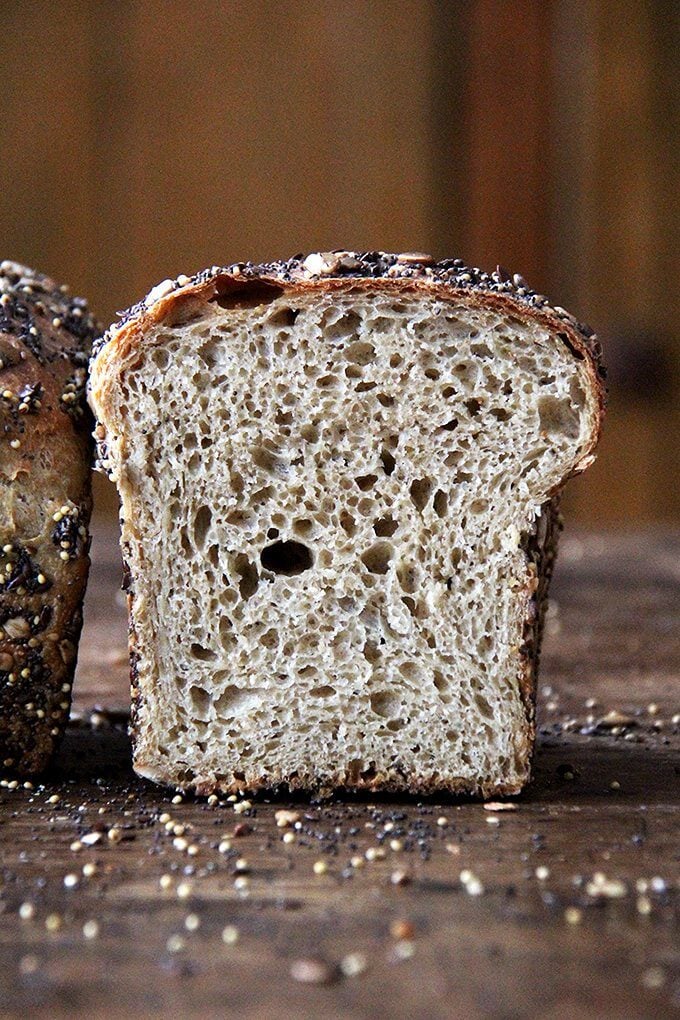 Add Nuts and Seeds to Bread Dough
To add seeds and nuts (or even dried fruit and cheese), simply stir them into the dry ingredients before adding your lukewarm water.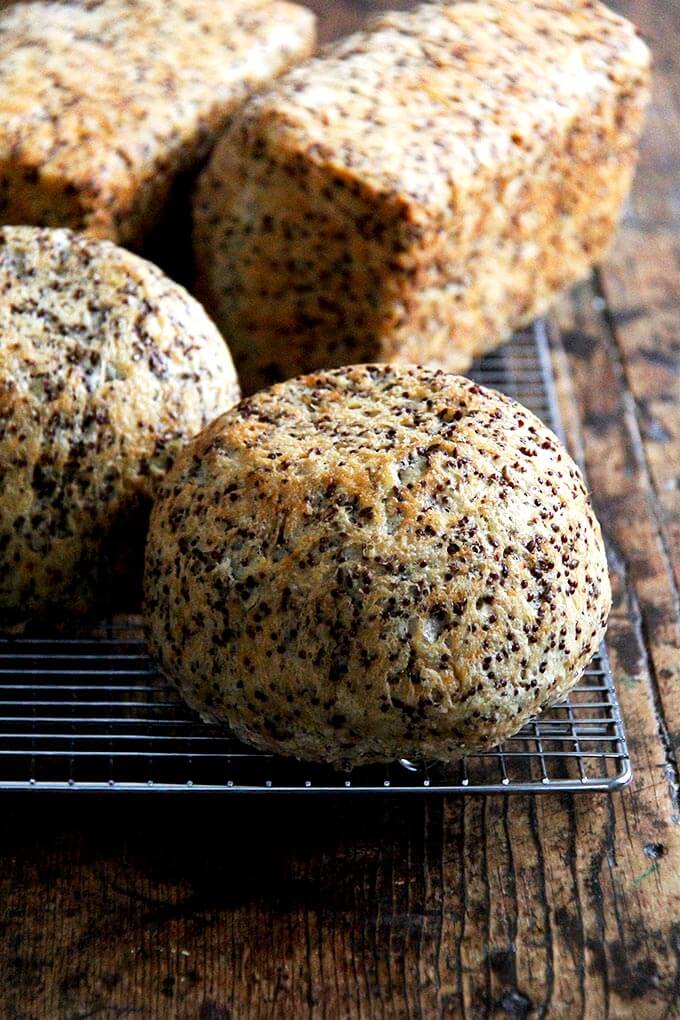 Gluten-Free Peasant Bread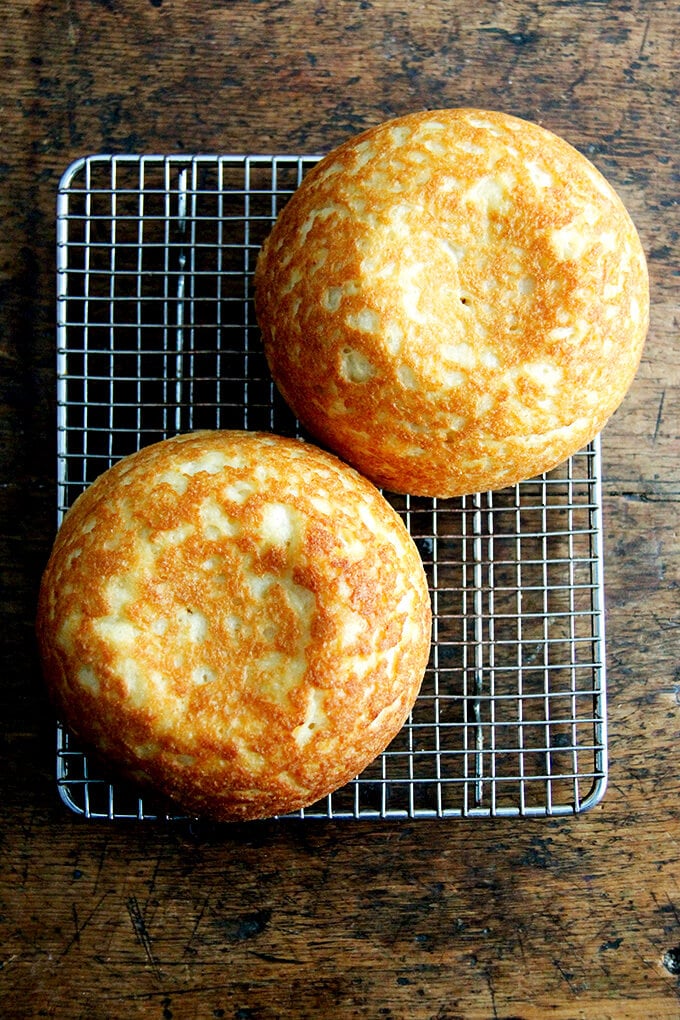 Making gluten-free peasant bread isn't as simple as swapping gluten-free flour for wheat flour.
But the process and recipe are still super simple — in fact, because there's only one rise, many people find the gluten-free peasant bread to be even simpler than the original.
Find the recipe here: Gluten-Free Peasant Bread.
Coat the Loaves in Seeds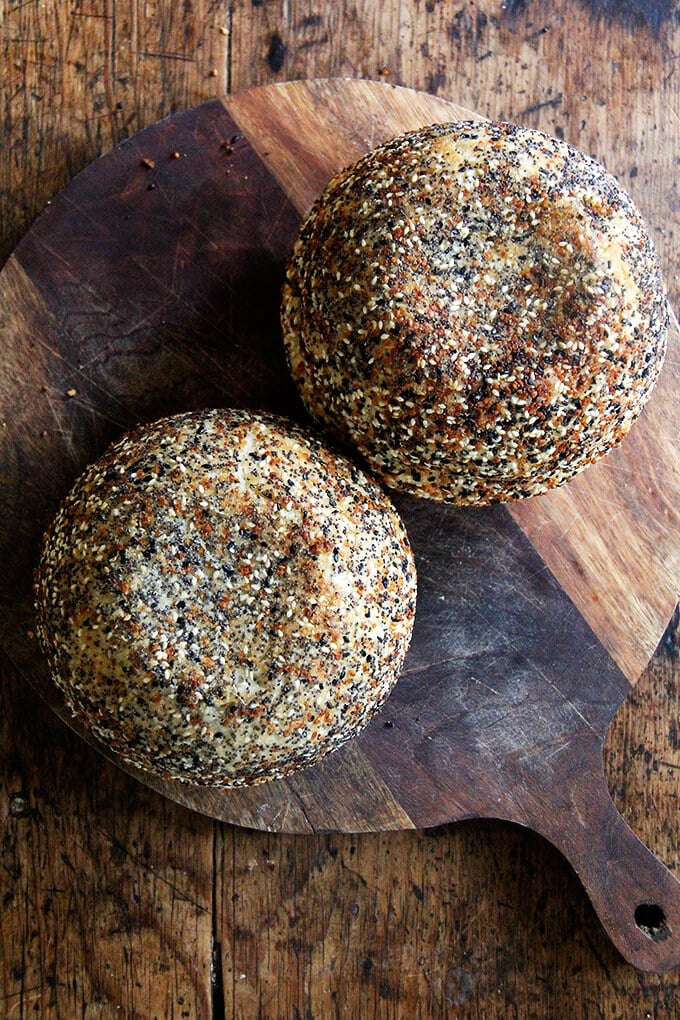 To coat the peasant bread in seeds, simply coat the bowls with everything bagel seasoning or with dukkah or sesame seeds or whatever seed mix you have seen before.
How to Use Whole Wheat Flour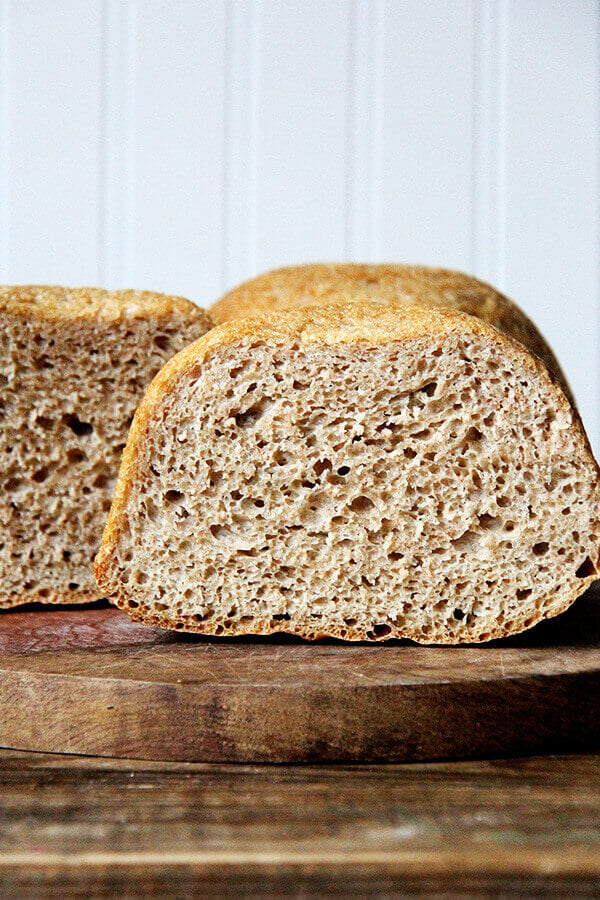 To use whole wheat flour in the peasant bread, simply replace as much as 50% of the all-purpose flour with your favorite whole wheat flour. It yields a beautiful, chewy texture as well as a lovely flavor and aroma.
When using whole wheat flour, you may have to use more or less water — there is no rule as to how much more or less, and it will take some trial and error to get right because all flours absorb water differently.
Bake Peasant Bread in a Dutch Oven
If you're looking for more of a crackling sourdough bread as opposed to the crispness of the peasant bread, you can bake the peasant bread dough in a preheated Dutch oven.
Note: Peasant bread is a very high hydration dough, meaning there is a lot of water relative to flour. Because baking the peasant bread in a Dutch oven will require some handling of the dough — to shape it into a round and to create some tension — you may want to reduce the water from the start.
Consider holding back 20-30 grams of water to make the process more manageable for you.
How to Bake at High Altitude
First, try the original recipe as written (preferably with a scale). You may not need to make any adjustments. If the original recipe doesn't work, try adding a little bit more water: about a quarter cup for every 512 g of flour.
If your dough is especially gooey, try decreasing the water by 1/4 cup. But, if you aren't using a scale, my first suggestion would be to buy a scale and weigh the flour, and make the bread once as directed with the 2 cups of water and 512 grams of flour, etc.
Punch the dough down twice before transferring it to the buttered Pyrex bowls. In other words, let it rise for 1-1.5 hours, punch it down, let it rise again for about an hour, punch it down, then transfer it to the buttered bowls.
Lastly, try decreasing the yeast to 1.5 teaspoons.
The Best Way to Store Bread
If you want to store the bread at room temperature for 3 to 4 days, the best method is the ziplock bag.
Nothing seems to keep bread freshest, the crumb the softest, and better than a ziplock bag.
Upon washing, you can re-use the bags again and again.
If you intend to keep the bread for longer, there is the option to freeze it as loaves or slices.
You can slice bread as soon as it cools completely, and transfer the slices to a ziplock freezer-safe bag.
Then, you can stack the sliced bread near the top shelves of your freezer.
This way, the bread was frozen at its freshest.
To reheat bread, use your toaster, oven, or even skillet.
Day-old bread or frozen sliced bread can be placed into the toaster for breakfast toast.
For hot lunch sandwiches, simply add a layer of butter and place your bread on a hot skillet, toasting both sides. Add your sandwich ingredients and enjoy!
Pop your frozen loaves into the oven at 350ºF for about 15 minutes before dinner, and by suppertime, you'll have a fresh loaf to enjoy.
Peasant Bread
The simplest bread recipe that requires no kneading. Used with instant self-rising yeast, preparation time is very fast.
Equipment
1 Oven

2 Ovensafe Pyrex Glass Bowls
Ingredients
4

cups

unbleached all-purpose or bread flour

2

tsp

kosher salt

2

cups

lukewarm water

made by mixing 1.5 cups cold water with 0.5 cup boiling water

2

tsp

sugar

2

tsp

SAF Instant Yeast

2

tbsp

butter

room temperature
"Always Be Ready" Max