Let's preserve of one nature's beauties!
Here's a quick how-to guide on how to make a dandelion globe plus more cool tips.
The Stuff of Dreams
I just wonder, if you can remember, being a kid, and snagging one of these up from the grassy fields? You took a deep breath and blew with all of your might — watching the dandelion seeds fly off, imagining where they might go?
This classic flower (and experience), bring back so many nostalgic childhood memories. No matter where you grew up or what kind of life you had, most of us remember the dandelion.
Let's preserve one in a time capsule by following the simple steps below. You'll store all of those memories, bottled in time and in clear resin. The globe is something that when you look at the flower, you just might be able to remember the day you picked it, who you were with, and how you were feeling.
Dandelion Paperweights
The Dandelion globe. One of the most beautiful DIY projects you can complete in less than a day. Make one for your home, as a treasured handmade gift, or list it up on artsy.net for an extra way to support your prepping needs.
All you really need are:
a dandelion that hasn't flowered yet
resin and catalyst from a craft store
a vending machine plastic prize capsule
1-2 days to wait for the flower to bloom
a wooden or plastic clothespin
If you've already set up your food shelving, and garden areas, and integrated urine into your water cycle, then making a dandelion paperweight globe is going to be a cinch. DIY paperweights are a fun project and a great gift idea.
Once you can learn how to make them yourself, there are so many great things you can do with these globes. These dandelion paperweights sell for $35-$85 on amazon.com, so if you get adept at it you could sell them for extra income as truly amazingly beautiful gifts.
How To Make A Dandelion Globe
There are few things more beautiful than a dandelion paperweight! When spring arrives, you will start to see dandelions popping up all over the place. Soon they will flower and you will see a myriad of white fluffy heads instead of the final form: yellow petals. That is the telltale sign that spring has finally come!
Now let's talk about how to actually make the dandelion paperweight. You never know, maybe there's a hidden artist in you! This could expand out into glass-blowing ventures and all kinds of craft businesses!
Collecting the Dandelions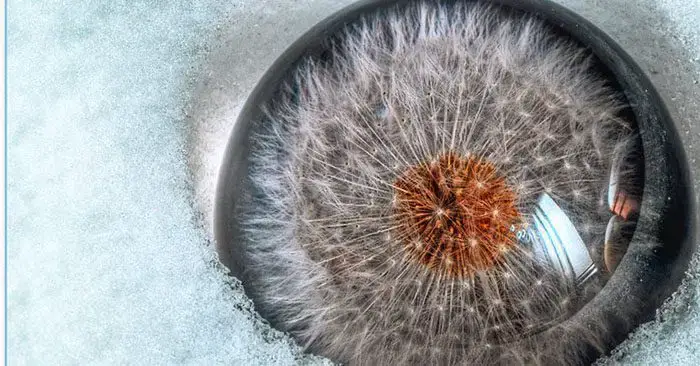 Remember, bees love dandelions and rely on dandelions for pollination. So, collect what you need, but leave the rest. Fortunately, you don't need very many to make a dandelion paperweight globe.
For one batch, you will only need a few full blossoms (from stem to flower), but be sure to have a few backup flowers just in case. Gently shake off any debris, before placing them in a cup with a little water.
Note #01: For the best dandelion globe, be sure to pick when the dandelion hasn't bloomed yet. If it's yellow, you're too late. Think about eating dandelions instead!
Note #02: If you want to utilize more of the plant, dandelions are completely edible! You could take the greens as well, to make a dandelion salad or a yummy pesto. Just keep in mind that the yellow blooms are sweet, while the remaining part of the plant is bitter.
Step 1. Buy a vending capsule from a vending machine — easy to find in supermarkets, malls, and other public places.
Step 2. Get your dandelion before it puffs. Pick it gently – it will still be closed. Position your dandelion right side up carefully with your clothespin. Wait 1-2 days for it to expand.
All of the seeds will bloom out and you'll get that quintessential white look of the dandelion before it turns. yellow. This is what you will preserve in resin.
Step 3. While waiting for your dandelion to bloom, go to your local craft store and buy some resin and catalyst. If you're not sure what kind, just ask away, there will definitely be someone around who knows what kind you need.
Step 4. Once your dandelion has bloomed, follow the resin product instructions to prepare your resin.
Step 5. Set up your vending capsule with the open side up.
Step 6. Pour your resin and your catalyst into the vending capsule. Be sure to wear gloves and be careful of spilling the resin; it's a pain to clean.
Step 7. Very carefully, and very slowly, remove your clothespin from your dandelion and gently, gently press the dandelion into the resin inside the capsule. Leave it there for at least 24 hours until the resin hardens. If you're not sure, leave it there for longer.
Step 8. When you are certain it has hardened, just pop it out of the vending capsule. Don't worry if the plastic breaks; it was just the mold.
Congratulations!! You now have a gorgeous, one-of-a-kind dandelion paperweight globe! Every flower is different, therefore, each dandelion paperweight you make is unique.
How great and handy!
You might be thinking by now that it's pretty easy to set up more than one flower, or vending capsules, and multiple resin stations. Good for you!
Sell Your Dandelion Paperweights
Prepping requires gear. Gear costs money. Customizations to one's homestead is a costly, timely duty. But, remember, once you have upgraded your surroundings, you're sittin' pretty when all hell breaks loose. You don't have to just stop at dandelions; you can experiment with whatever blooms in your area. Not only that, you can stick in different items just to explore your artistic side as you create your work.
Websites like craigslist, artsy.net, and eBay are still rolling and operating. You can even showcase your work on Facebook and Instagram for plant enthusiasts. All you need to do is take some clear pictures and upload them with some information about your product and story.
Good luck, fellow prepper! We hope you find each and every inventive way to better your preparedness.
---
By the Way, Dandelions are Delicious and Nutritious
In case you're done after your first few paperweight globes, or have already experimented with a range of flowering plants, consider integrating dandelions around your home, garden, and into your diet.
Extra Nutrition – For such a little plant, dandelions are loaded with vitamins and minerals such as A, B1, B2, B6, E, K, calcium, potassium, iron, and magnesium.
Convenience – It can't get more convenient than dandelions, because it plants itself, probably right out your door.
A Storable Plant – Because they aren't around in colder climates, it's great that they are so easy to store to use in the winter months. Simply add the yellow blossoms to a jar of honey. There are two of the ingredients all ready to go for the dandelion blossom honey butter recipe below. I guess it can get more convenient!
Durable and Reliable – Just ask someone who can't seem to get rid of them…they are abundant and quite stubborn when you don't want them around.
So, why not reach out into your backyard to add flavor and nutrients to an edible treat or meal?
Dandelions for Survival Food
Before we show you how to do this cool craft, let's learn a little more about why preppers should care about the dandelion.
First, did you know that dandelions are a great plant to have around in a survival situation? The dandelion is a powerhouse in the survival world. It's a wild edible and the leaves are even sold at the supermarket in spring! Another great little secret about the dandelion is that the tuber roots can be eaten.
You can make a salad from them by stripping the stems and using them as the base. But you don't have to waste the other parts because they have uses as well.
Clean them and strip them, too. Then you can chop them into smaller pieces and use them as roughage. You can leave the flowers whole or cut them into smaller pieces. Add oil and vinegar, some pepper and salt, and your salad is complete!
You can even use them to make a stir fry. All you need is a frying pan and a campfire. Clean them, shop them, add some green onion if you have it, and cook it all over your fire (with some oil).
You can also make dandelion soup! Pretty much any leftovers you have can go in the pot, along with your freshly picked dandelions. Strip the greens and chop the roots into sections before adding to the pot.
In fact, if you roast them well and grind them up they can be made into a caffeine-free coffee substitute. Then there is also dandelion tea. Now that is survival power!
Last but not least, my favorite way to prepare them is survival dandelion bread. Serve with dandelion jelly and a glass of nice dandelion wine.
Dandelions vs Wild Lettuce
Make sure you're foraging for real dandelions, not look-alikes like wild lettuce. Wild lettuce has its own beneficial properties (like as a narcotic and pain reliever) but has a much more bitter taste and is not as nutritionally beneficial as the dandelion.
---
Dandelions, Paperweight Globes, and Foraging Cuisine
In conclusion, there are at least three expansions from your DIY Dandelion Paperweight Globe project.
One, you're left with a beautiful reminder of old memories, and a fresh new one.
Two, you have an opportunity to explore the creative side of yourself as you prepare for new ways to earn money for prepping supplies.
And three, you've learned that dandelions are an excellent way to supplement your foraging diet. Remember, you are free to choose your own way, and pick your own adventure in your prepping journey.
"Always Be Ready" Max